Calgary International Airport
All information about Calgary International Airport
Calgary International Airport (YYC) is a pivotal transportation hub located approximately 17 kilometers northeast of Calgary's vibrant downtown area in Alberta, Canada. As the busiest airport in the province, YYC serves as a vital gateway for both domestic and international travelers. This world-class airport boasts four well-maintained runways and two passenger terminals, each designed to offer a seamless and enjoyable travel experience.
The Domestic Terminal and the International Terminal are equipped with a comprehensive array of amenities and services, ensuring that passengers' needs are met from the moment they arrive. Travelers can explore a diverse selection of shops, ranging from luxury boutiques to convenience stores, providing an opportunity for last-minute shopping or souvenir hunting. Numerous dining options, from local cuisine to international fare, cater to a wide range of tastes and preferences. For those seeking relaxation and tranquility, YYC offers various lounges where passengers can unwind in comfort before their flights.
The airport's extensive route network connects travelers to destinations across Canada, the United States, and around the world. Whether you're embarking on a business trip, a vacation, or returning home, YYC offers a wide range of flight options to accommodate your needs. With its dedication to passenger satisfaction and continuous improvement, Calgary International Airport remains a top choice for travelers seeking a smooth and efficient travel experience.
Calgary Airport Terminals
Calgary Airport consists of two passenger terminals :
International Terminal
Domestic Terminal
International Terminal
Calgary Airport International Terminal, also known as Terminal 2 and Transborder Terminal, was opened in 2016 and exclusively handles international flights.
International Terminal has a couple of Concourses: Concourse D and Concourse E.
While Concourse E only serves US flights, Concourse D provides connections around the world. 
LEVELS
Ground Level
This is the Arrivals level. Find here the baggage claim area plus other arrivals facilities.
First Level
This is the Departures level, where both Concourses D and E are located. Note that the access to both concourses is granted after a separated security check for each one:
Concourse D
Concourse D counts with boarding gates D70 to D87 serving international flights.
Concourse E
Concourse E has boarding gates E70 to E97 and only handles US flights. 
Note that both Departures Halls is equipped with several services such as currency exchange, food, drink and retail concessions.
Domestic Terminal
Best Facilities And Services at Calgary Airport
Shopping: YYC boasts a variety of shops, from duty-free stores to boutique fashion outlets, allowing travelers to shop for gifts, fashion items, and local souvenirs.
Dining: A diverse selection of restaurants, cafes, and bars serve a range of cuisines, from Canadian specialties to international flavors, ensuring that passengers have plenty of dining options.
Wi-Fi: Free high-speed Wi-Fi is available throughout the airport, making it easy for passengers to stay connected and work while waiting for their flights.
Airport Spa: Passengers can unwind with spa services, including massages and skincare treatments, allowing for a relaxing break during their journey.
Medical Services: YYC has medical services available in case of emergencies, ensuring the well-being of passengers and visitors.
Children's Play Areas: Family-friendly facilities such as play areas and interactive displays keep young travelers entertained and engaged.
Lost and Found: Passengers who have lost items can use the airport's lost and found services to locate their belongings.
Meeting Rooms: For business travelers, YYC offers meeting rooms equipped with modern technology, providing a convenient space for work or meetings.
Currency Exchange: Currency exchange services are available for international travelers who need to convert their money.
Accessibility Services: The airport is equipped with facilities to accommodate passengers with reduced mobility. These include accessible restrooms, ramps, elevators, and dedicated assistance services.
Address: 2000 Airport Rd NE, Calgary, Alberta, T2E 6W5 (CANADA)
Phone: +1 403 735 1200
Email: [email protected]
Transportation at Calgary Airport.
Bus: bus options from Calgary Airport:
Bus Routes
FARES
BAGGAGE RULES
Bus Routes
Route 300
It provides service to Calgary downtown via Centre Street.
Route 100
Gets to McKnight-Westwinds LRT Station and stops at terminals too.
Route 32
Serves YYC's Global Logistics Park-South, but it doesn't stop at the Terminal building, it stops south on the west side of the airport property.
Route 57
Route 57 serves the McCall Way to 78 Avenue N.E, but it doesn't go to the terminal building.
FARES
BAGGAGE RULES
Nearby 5 best hotels to visit in Calgary Airport
Delta Hotels by Marriott Calgary Airport In-Terminal
Located right within the airport terminal, Delta Hotels by Marriott Calgary Airport In-Terminal offers unparalleled convenience for travelers. This modern hotel features comfortable rooms, top-notch amenities, and easy access to the airport, making it an excellent choice for those with early morning or late-night flights. Guests can relax and unwind in style, with the assurance of being only steps away from their departure gate.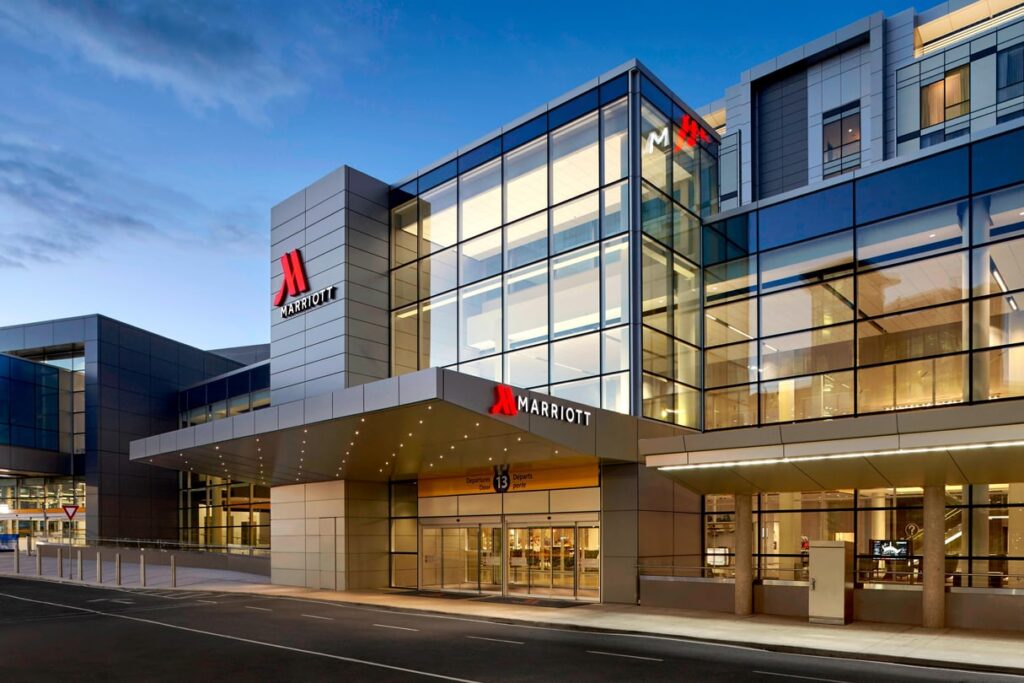 Calgary Airport Marriott In-Terminal Hotel
Another outstanding in-terminal option, the Calgary Airport Marriott In-Terminal Hotel provides luxurious accommodations and a host of amenities. From a fitness center to an indoor pool, this Marriott property ensures that guests enjoy a comfortable stay while maintaining proximity to the airport. Whether you're in town for business or leisure, this hotel has you covered.
Homewood Suites by Hilton Calgary Airport
Located just a short drive from the airport, Homewood Suites by Hilton Calgary Airport is an excellent choice for travelers seeking spacious accommodations and extended-stay options. The hotel offers suites with fully equipped kitchenettes, making it ideal for guests looking to prepare their meals. Complimentary airport shuttle service further enhances convenience, ensuring a seamless transition to and from the airport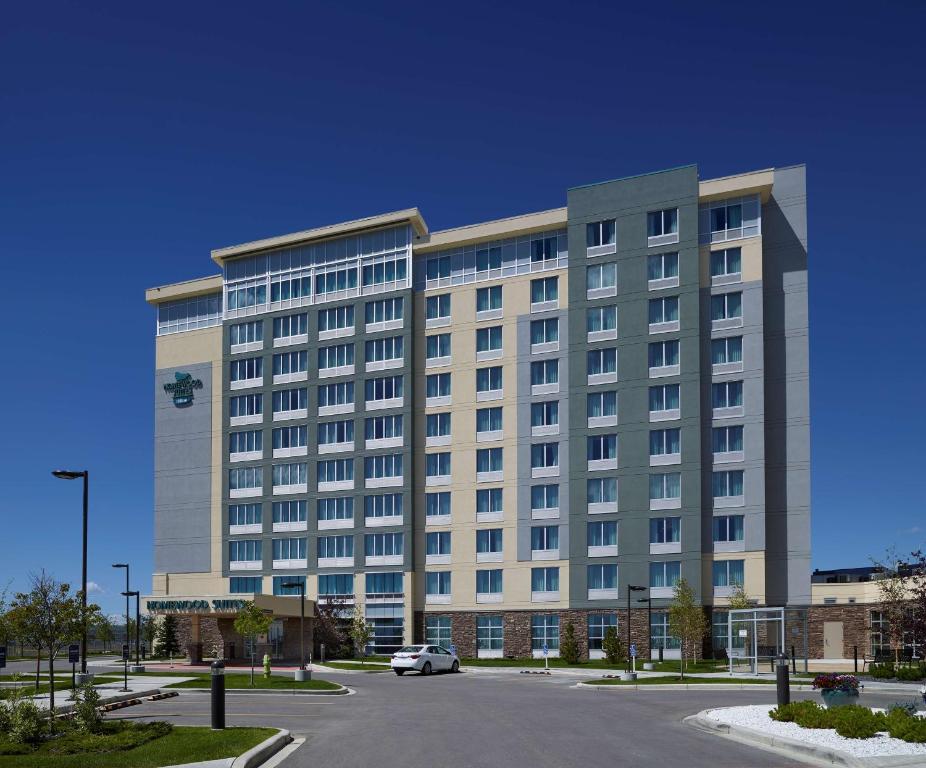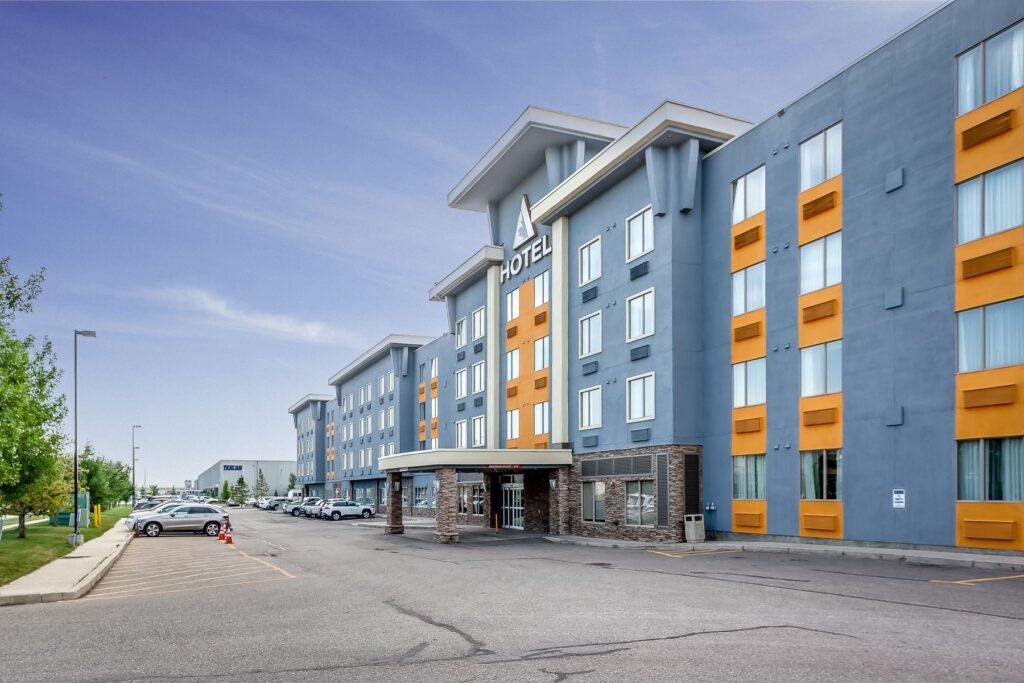 Acclaim Hotel Calgary Airport
 This contemporary hotel is a convenient choice for travelers looking for a comfortable stay close to the airport. Acclaim Hotel Calgary Airport offers a complimentary shuttle service to and from the airport, eliminating the stress of transportation logistics. With its stylish design, on-site dining options, fitness center, and attentive service, guests can expect a relaxing and enjoyable stay.
Wyndham Garden Calgary Airport
 Situated a short drive from the airport, Wyndham Garden Calgary Airport is a great option for both business and leisure travelers. The hotel features modern and well-appointed rooms, an on-site restaurant, and a fitness center to meet guests' needs. The complimentary airport shuttle service adds to the overall convenience, allowing guests to explore nearby attractions like CrossIron Mills Mall and the vibrant city of Calgary.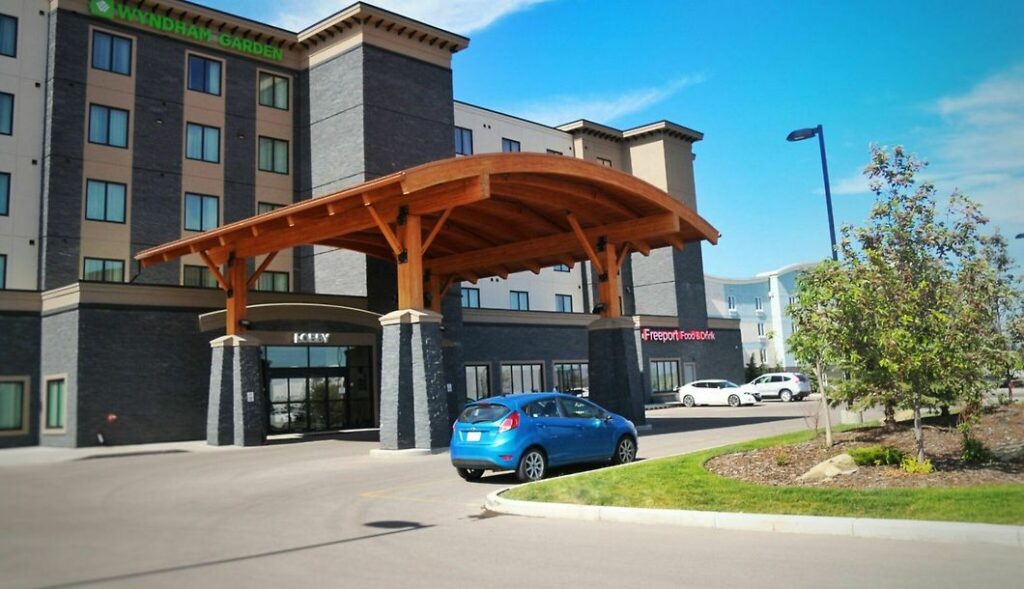 Best 5 places to visit in Calgary Airport.
Best 5 places to visit in Calgary Airport.
The Calgary Zoo, located in Calgary, Alberta, Canada, has established itself as a prominent attraction. Its origins date back to 1929, and since then, it has evolved into one of North America's premier zoological parks, captivating visitors of all ages. This zoo boasts a collection of over 1,000 animals, representing diverse species in carefully crafted, naturalistic habitats.
Calgary Zoo is renowned for its unwavering commitment to conservation and education. Alongside a diverse animal collection, it educates visitors about wildlife conservation and advocates for endangered species protection. The zoo actively participates in breeding programs, research, and animal welfare advocacy, reinforcing its dedication to preserving our natural world.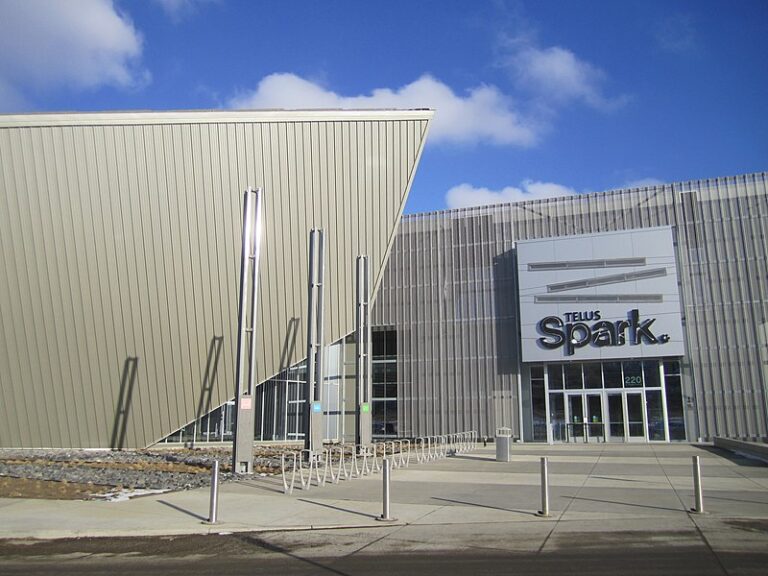 Telus Spark Science Centre (13.8 km)
The center at TELUS Spark immerses its visitors in an array of interactive exhibits, enriching educational programs, and immersive encounters that breathe life into scientific concepts. It houses various galleries, each spotlighting a unique facet of science and technology, encompassing astronomy, chemistry, robotics, and innovation. At this institution, one can get hands-on, experiment, and embark on an exploration of the marvels of the natural world and human ingenuity.
Heritage Park Historical Village (18.8 km)
Heritage Park Historical Village, nestled in Calgary, Alberta, is a captivating homage to Canada's cultural heritage. Established in 1964, this extensive open-air museum spans 127 acres, offering visitors a unique journey into Western Canada's late 19th and early 20th-century life.
Visitors can enjoy immersive experiences, from steam-powered train rides to encounters with costumed interpreters in a bustling historical town. The park also houses Gasoline Alley Museum, showcasing vintage automobiles and memorabilia from the early days of motoring. Throughout the year, Heritage Park hosts special events and educational programs, making it a captivating and educational destination for all.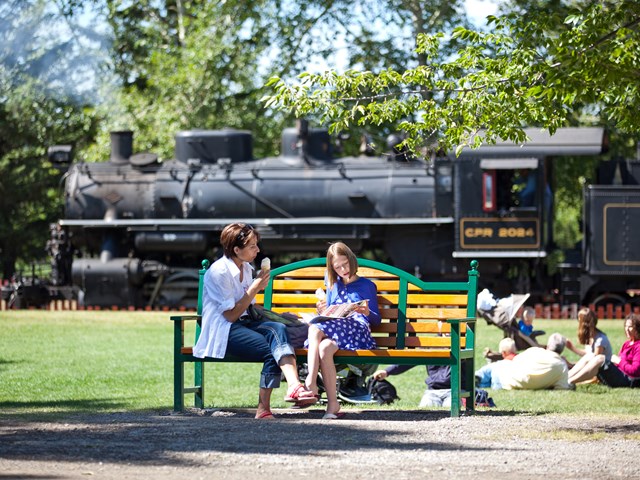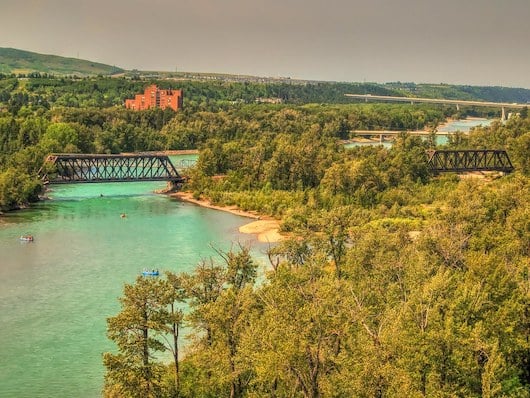 Bowness Park, nestled in the heart of Calgary, Alberta, is a serene urban retreat with a rich history dating back to its establishment in 1914. This park provides a tranquil escape from the city's hustle and bustle, situated along the picturesque shores of the Bow River.
Bowness Park's rich history is deeply linked with the growth of the local community. Through the years, it has become a recreational oasis, with a tranquil lagoon for summer paddle boating and winter ice skating. The park also boasts delightful picnic spots, picturesque walking trails, and an enchanting miniature railway, making it a truly enticing destination.
Fish Creek Provincial Park (23.8 km)
Fish Creek Provincial Park, situated in Calgary, Alberta, stands as one of Canada's largest urban parks, covering an expansive 3,300 acres. It offers a harmonious blend of outdoor recreational activities and wildlife conservation, all conveniently nestled within the city's borders.
The park's history is deeply rooted in its Indigenous heritage, with archaeological sites bearing testament to Indigenous peoples' presence for millennia. Today, Fish Creek Provincial Park remains a vital green space dedicated to preserving the area's ecological diversity.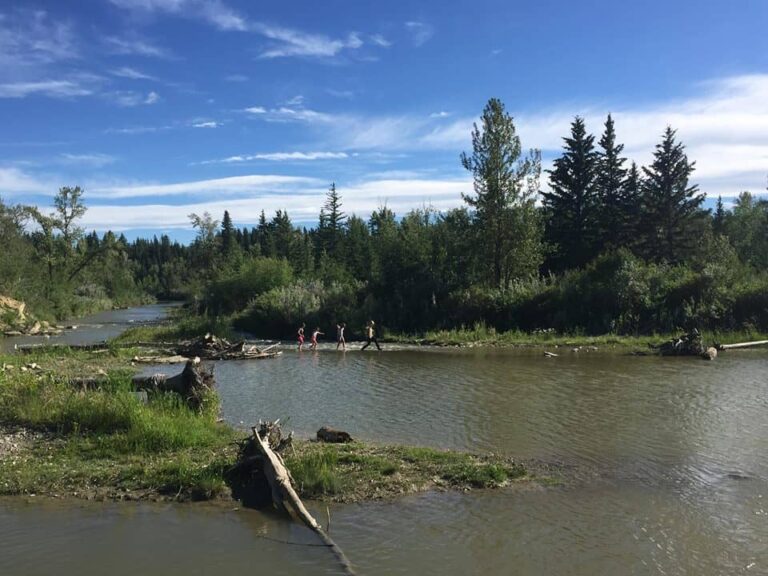 Where is Calgary International Airport located?
Calgary International Airport is located in Calgary, Alberta, Canada. It's situated approximately 11 miles (18 kilometers) northeast of downtown Calgary.
What is the IATA code for Calgary International Airport?
The IATA (International Air Transport Association) code for Calgary International Airport is YYC.
Which airlines operate at Calgary International Airport?
Calgary International Airport is served by numerous domestic and international airlines. Some major carriers include Air Canada, WestJet, United Airlines, and British Airways. Various other airlines provide a wide range of flight options.
What facilities and services are available to passengers at Calgary International Airport?
Calgary International Airport offers a range of passenger amenities, including multiple terminals, dining options, retail shops, car rental services, and baggage handling facilities. Additionally, there are services for travelers with special needs, such as accessible facilities and assistance for individuals with disabilities.
What is the main purpose and significance of Calgary International Airport?
Calgary International Airport serves as a major transportation hub for the city of Calgary and the surrounding region in Alberta. It plays a crucial role in connecting passengers to domestic and international destinations, facilitating both business and leisure travel.