Las Vegas International Airport
All information about Las Vegas International Airport
Las Vegas McCarran International Airport, located in the heart of the Mojave Desert, stands as a prominent symbol of extravagance and convenience. Serving as the primary gateway to the renowned entertainment capital of the world, this bustling airport has earned its reputation for efficiency, luxury, and non-stop excitement.
The airport's strategic location, just 5 miles south of the famous Las Vegas Strip, ensures that travelers waste no time getting from the airport to the action-packed heart of Las Vegas. Whether you're here for business or leisure, the airport's proximity to the city center is a definite advantage.
As one of the busiest airports in the United States, McCarran International boasts state-of-the-art facilities and a commitment to innovation. Its terminals are designed with the traveler's comfort in mind, featuring an array of dining, shopping, and entertainment options to keep you occupied during layovers. The airport also prides itself on its dedication to sustainability, implementing eco-friendly practices such as solar panels and water-saving technologies.
Las Vegas Airport Terminals
McCarran International Airport consists of two main terminals: 
Terminal 1
Terminal 1 primarily handles domestic flights.
LEVELS
Lower Level 
The Ground Level of Terminal 1 is where arriving passengers first step into the terminal. It houses baggage claim areas, rental car counters, and ground transportation options like taxis and shuttles. Passengers can collect their luggage and easily find transportation to their destinations within Las Vegas.
Level 1 
This is the first floor where departing passengers check in for their flights. It contains airline ticket counters, check-in kiosks, and security checkpoints leading to the departure gates. Travelers can complete the check-in process, drop off their luggage, and proceed to the security screening area from this level.
Level 2
Level 2 is dedicated to the security screening process and provides access to the departure gates. After passing through security, passengers can explore a variety of dining options, retail stores, and services while waiting for their flights. This level ensures a comfortable and convenient pre-flight experience.
Gates A: A3 to A23; Gates B: B1 to B25; C Gates: C1-C25; D Gates: D1 to D59. 
Terminal 3
Best Facilities And Services at Las Vegas Airport
Dining Options: McCarran Airport boasts an extensive range of dining options that cater to all tastes and preferences. Whether you're in the mood for a quick bite, a gourmet meal, or a taste of local Las Vegas cuisine, you'll find it here. From fast-food favorites like McDonald's and Subway to sit-down restaurants like Wolfgang Puck and Gordon Ramsay Pub & Grill, the airport's dining choices are diverse and delectable.
Shopping Paradise: For those who enjoy shopping, McCarran Airport is a retail haven. Duty-free shops offer a variety of luxury goods, perfumes, and cosmetics, often at tax-free prices for international travelers. Boutiques feature fashion, jewelry, and accessories from renowned brands. Additionally, there are souvenir shops where you can pick up Las Vegas-themed gifts and keepsakes, allowing you to take a piece of the city with you.
Wi-Fi and Charging Stations: Staying connected is essential for today's travelers. McCarran Airport provides free Wi-Fi throughout its terminals, allowing passengers to access the internet, check emails, or browse social media. There are also plenty of charging stations strategically located, so you can keep your electronic devices powered up and ready for use.
Rental Cars: Several major car rental companies have counters at the airport, providing travelers with convenient access to rental vehicles. Whether you need a car for exploring the city or reaching your final destination, renting at the airport is hassle-free.
Ground Transportation: To get to your hotel or destination within Las Vegas, you have a range of ground transportation options. Taxis are readily available and can quickly whisk you away to your chosen location. Rideshare services like Uber and Lyft operate at the airport, offering another convenient and cost-effective transportation choice. Shuttle services provide shared rides to various hotels and areas in the city, making it easy to reach your final destination.
Baggage Handling: McCarran Airport takes pride in its efficient baggage handling services. Upon arrival, passengers can head to the baggage claim areas to retrieve their luggage. Baggage carts are available for travelers who may have heavier or more cumbersome items to transport.
Medical Facilities: In case of medical emergencies or the need for medical assistance, the airport has medical clinics and pharmacies on-site. Passengers can receive necessary care and support, ensuring their well-being while traveling.
Airport Lounges: For those seeking a quieter and more exclusive space, McCarran Airport offers several airline and private lounges. These lounges provide a comfortable environment where passengers can relax, work, or enjoy complimentary snacks and beverages before their flights. Access to these lounges is often granted to certain travelers based on airline status or memberships.
Address:  5757 Wayne Newton Blvd, Las Vegas, NV 89119, USA
Phone: +1 702-261-5211
Transportation at Las Vegas Airport.
Bus: bus options fromLas Vegas Airport:
Bus Routes
Terminal 1
Terminal 1 at Las Vegas Airport is served by the following routes:
Route 108 – To and from Paradise.
Route 109 – To and from Maryland Parkway.
Centennial Express (CX)
Bus stop is located at Level 0, outside arrivals area. 
Terminal 3 
From Terminal 3 there is available the Centennial Express (CX)
Bus stop is located in the second floor of the terminal. 
FARES
Nearby 5 best hotels to visit in Las Vegas Airport
Tru by Hilton Las Vegas Airport
Tru by Hilton Las Vegas Airport offers a refreshing and modern lodging experience for travelers exploring the vibrant city of Las Vegas. Conveniently located near McCarran International Airport, this hotel provides a welcoming atmosphere designed for comfort and relaxation. The hotel's contemporary and vibrant decor creates an inviting ambiance, and its thoughtfully designed rooms offer modern amenities such as comfortable beds, large HDTVs, and spacious bathrooms. Guests can kickstart their day with a complimentary hot breakfast featuring a variety of options to suit different tastes. Tru by Hilton also provides a fitness center for those looking to stay active and a 24/7 market for snacks and beverages. Whether you're in town for business or leisure, this hotel offers a convenient and comfortable stay, with easy access to the city's attractions and entertainment options.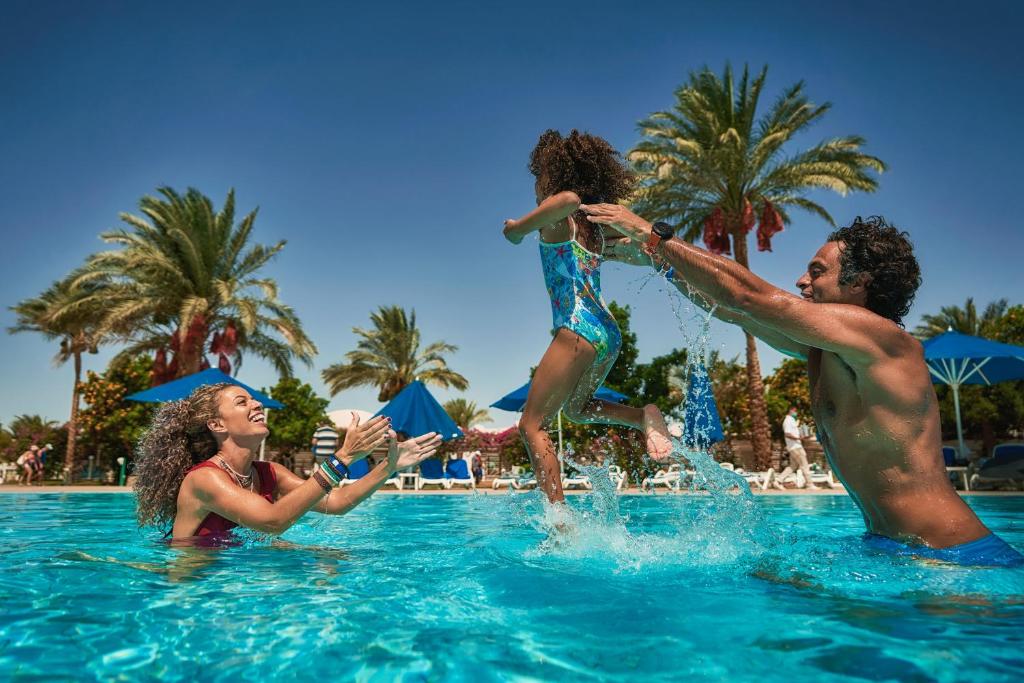 The Desert Rose Resort is a tranquil oasis in the heart of the bustling Las Vegas Strip. This all-suite resort offers a peaceful retreat for travelers seeking a blend of relaxation and excitement. The spacious suites feature fully equipped kitchens, separate living areas, and comfortable bedrooms, providing guests with a home-away-from-home experience. The lushly landscaped courtyard boasts a heated pool and hot tub, ideal for unwinding after a day of exploring the nearby attractions. The resort also offers barbecue areas and a fitness center, catering to both leisure and active travelers. With its prime location just a block from the Las Vegas Strip, Desert Rose Resort allows guests to easily access the city's world-famous entertainment, dining, and nightlife while enjoying a serene and comfortable base to retreat to.
La Quinta Inn & Suites by Wyndham Las Vegas Airport South
The La Quinta Inn & Suites by Wyndham Las Vegas Airport South is a welcoming and convenient choice for travelers exploring the vibrant city of Las Vegas. Located just a short drive from McCarran International Airport, this hotel provides a comfortable and accessible stay. Guests can expect well-appointed rooms featuring modern amenities, including flat-screen TVs and comfortable bedding, ensuring a restful night's sleep. The hotel offers a complimentary breakfast to kickstart your day and has a fitness center for those wanting to stay active. The outdoor pool provides a refreshing oasis for relaxation under the desert sun. Whether you're here for business or leisure, this La Quinta Inn & Suites offers a friendly atmosphere and easy access to the renowned Las Vegas attractions, making it an excellent choice for your stay.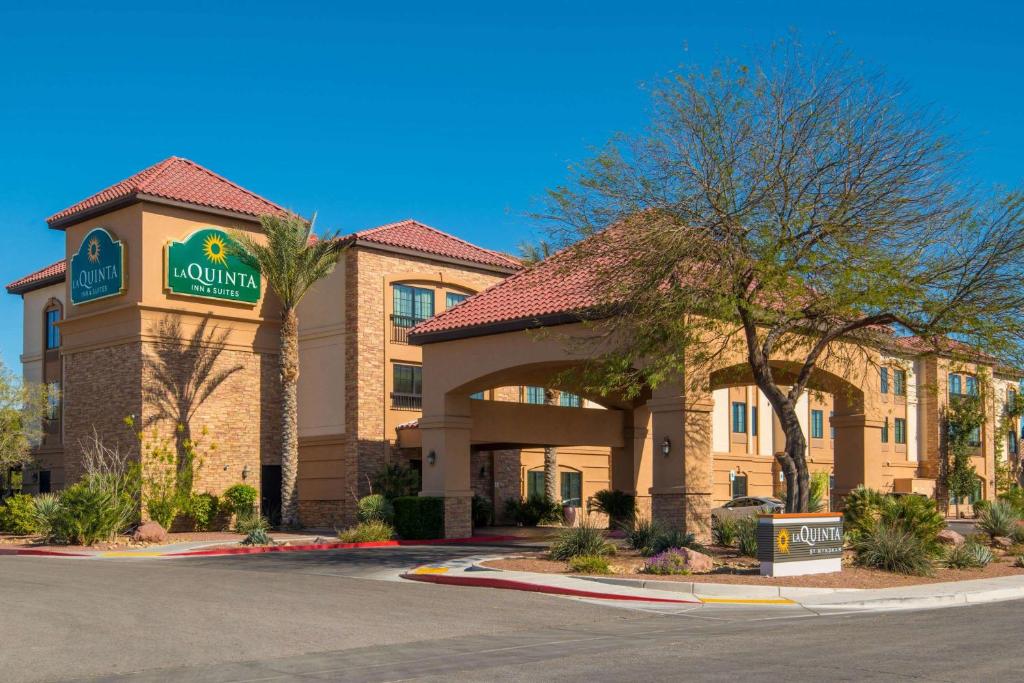 Four Seasons Hotel Las Vegas
The Four Seasons Hotel Las Vegas is the epitome of luxury and sophistication on the iconic Las Vegas Strip. Nestled within the renowned Mandalay Bay Resort complex, this five-star hotel offers a serene and upscale escape from the city's bustling energy. With its elegant and spacious rooms and suites, guests can enjoy stunning views of the Las Vegas skyline or the surrounding mountains. The Four Seasons pampers its guests with exceptional service, a tranquil pool oasis, and a world-class spa. Dining options include the renowned Veranda, serving Italian-inspired cuisine, and the stylish PRESS for steak and seafood. This exclusive hotel combines the excitement of Las Vegas with the impeccable service and serenity expected from the Four Seasons brand, ensuring an unforgettable and indulgent stay.
Mandalay Bay Resort & Casino
The Mandalay Bay Resort & Casino is a lavish and iconic destination on the famous Las Vegas Strip. Boasting a remarkable 120-acre complex, it offers a world-class resort experience. Guests can choose from a wide range of luxurious accommodations, each designed with comfort and style in mind. The resort features a sprawling pool area with a wave pool, lazy river, and sandy beach, making it a true oasis in the desert. For entertainment, the Mandalay Bay Events Center hosts concerts and sporting events, while the Shark Reef Aquarium allows visitors to get up close with marine life. With an array of dining options, a vibrant casino, and the electrifying nightlife at venues like LIGHT Nightclub, Mandalay Bay delivers the quintessential Las Vegas experience.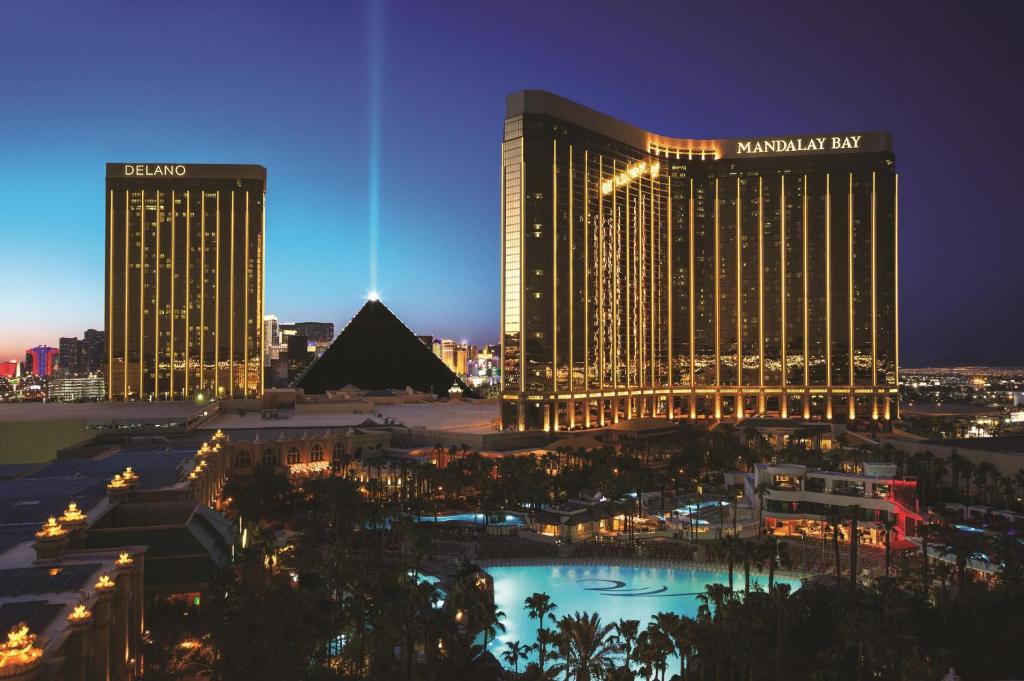 Best 5 places to visit in Las Vegas Airport.
Best 5 places to visit in Las Vegas Airport.
The Aviation Museum, a captivating destination for aviation enthusiasts and history buffs alike, offers a fascinating journey through the evolution of flight. Located in [City Name], this museum is a treasure trove of aeronautical marvels, showcasing a diverse collection of vintage aircraft, artifacts, and interactive exhibits. Visitors can explore the rich history of aviation, from the Wright Brothers' pioneering aircraft to modern-day innovations in aviation technology. The museum provides an immersive experience, allowing guests to step into the cockpit of historic planes, learn about aviation pioneers, and even try their hand at flight simulations. With knowledgeable guides and engaging displays, the Aviation Museum offers a memorable and educational experience, celebrating the incredible achievements and advancements that have shaped the world of aviation. Whether you're a seasoned aviation enthusiast or simply curious about flight, this museum promises an enlightening and enjoyable visit.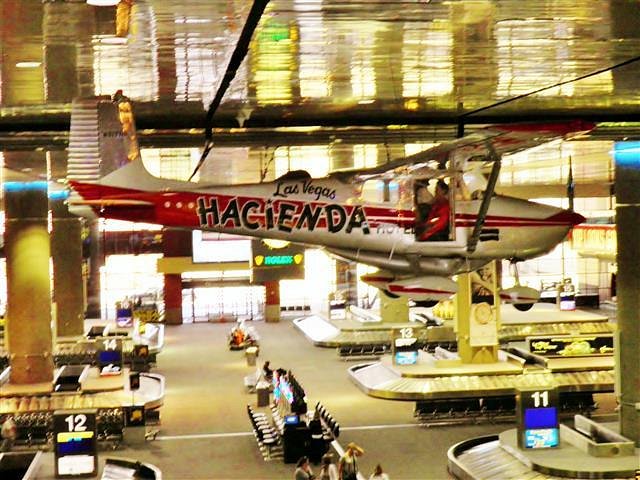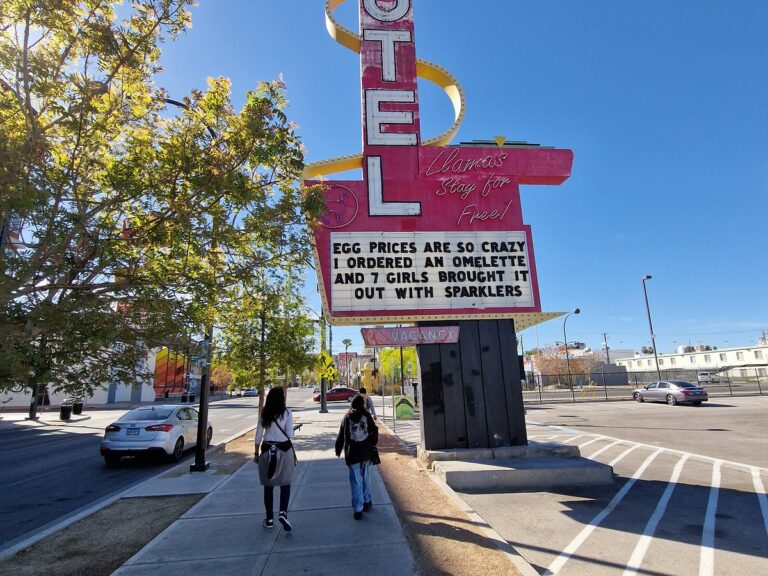 Las Vegas, often referred to as the "Sin City," is a world-renowned destination known for its vibrant nightlife, extravagant entertainment, and dazzling casinos. Located in the heart of the Nevada desert, this desert oasis has earned a reputation as an entertainment capital. The Las Vegas Strip, a bustling boulevard lined with iconic resorts and hotels, is a testament to the city's opulence and extravagance. Visitors flock to Las Vegas to try their luck at the gaming tables, attend world-class shows, and indulge in gourmet dining experiences. Beyond the glamour, the surrounding natural beauty of the Mojave Desert offers opportunities for outdoor adventures, including hiking and exploring the nearby Red Rock Canyon. Las Vegas is a city that truly never sleeps, captivating the imagination of millions of visitors from around the globe.
Venture Out Vegas is a dynamic and innovative travel company that specializes in curating extraordinary and off-the-beaten-path experiences in the iconic city of Las Vegas. With a commitment to providing travelers with unique and memorable adventures, Venture Out Vegas goes beyond the traditional Las Vegas experience. They offer a diverse range of activities, from exhilarating outdoor excursions in the stunning surrounding landscapes to immersive cultural and culinary experiences within the city. Whether it's exploring the scenic wonders of the nearby Red Rock Canyon, taking a hot air balloon ride over the Mojave Desert, or embarking on a gastronomic journey through Las Vegas' diverse culinary scene, Venture Out Vegas ensures that every traveler can uncover a side of Las Vegas they never knew existed. With their expert guides and personalized itineraries, Venture Out Vegas invites visitors to discover the extraordinary and unexpected in this world-famous destination.
5 Star Helicopter Tours is the epitome of luxury and adventure in the spectacular landscape of Las Vegas. With a commitment to delivering unparalleled experiences, this premier tour company offers a unique perspective of the city and its surrounding natural wonders. Guests have the opportunity to soar above the iconic Las Vegas Strip, taking in the breathtaking views of the glittering cityscape and world-famous landmarks. Additionally, 5 Star Helicopter Tours offers excursions to awe-inspiring destinations like the Grand Canyon, offering passengers a chance to witness the immense beauty of this natural wonder from the air. With highly experienced pilots and top-of-the-line helicopters, safety and comfort are paramount, ensuring that each flight is a once-in-a-lifetime adventure. For those seeking a thrilling and unforgettable experience, 5 Star Helicopter Tours delivers the ultimate journey through the skies of Las Vegas and beyond.
Black Cats Number One Escape Room
The Black Cats Number One Escape Room is an immersive and thrilling adventure destination in [City Name]. Escape rooms have gained popularity as a unique form of entertainment, and Black Cats has taken this concept to the next level. The experience involves solving intricate puzzles, deciphering codes, and working together as a team to escape within a set time limit. What sets Black Cats apart is their dedication to creating immersive storylines and intricate room designs that transport participants to different worlds and eras. With a range of themes and difficulty levels, from mysterious crime scenes to ancient archaeological digs, Black Cats offers an exciting challenge for both newcomers and escape room enthusiasts. It's a place where creativity, problem-solving, and teamwork come together for an unforgettable adventure. Whether you're looking for a fun outing with friends or a team-building activity, Black Cats Number One Escape Room promises an exhilarating and mind-bending experience.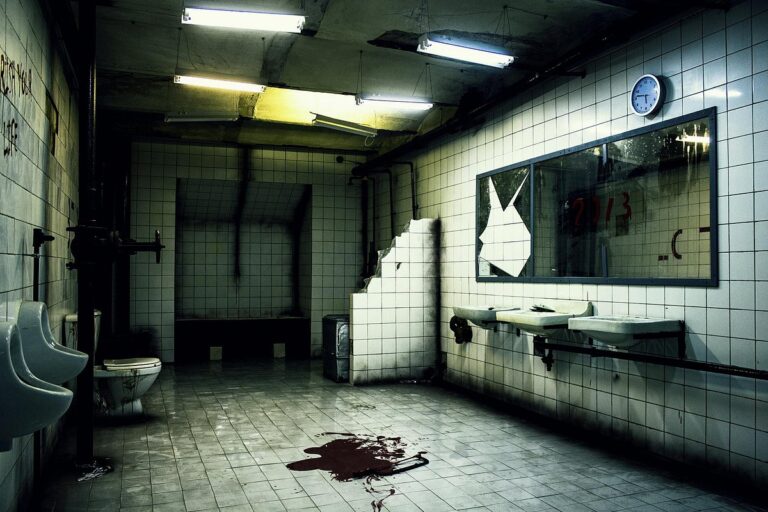 Where is McCarran International Airport located in Las Vegas?
McCarran International Airport is located approximately 5 miles (8 kilometers) south of the Las Vegas Strip, which is the central area of the city.
What is the airport code for McCarran International Airport?
The IATA code for McCarran International Airport is LAS, and the ICAO code is KLAS.
What ground transportation options are available from McCarran International Airport to downtown Las Vegas?
You can take taxis, rideshare services like Uber and Lyft, airport shuttles, or rent a car to get to downtown Las Vegas from the airport. There is also a public bus service called the RTC Transit that connects the airport to the city.
Are there any on-site hotels at McCarran International Airport?
No, there are no on-site hotels at McCarran International Airport. However, there are several hotels located nearby for travelers' convenience.
What is the approximate distance between McCarran International Airport and the Las Vegas Strip?
The airport is approximately 3 miles (5 kilometers) from the Las Vegas Strip.